Whew! It's a hot one here! 100+ degree heat index for the next 5 days... so I'm glad I got these chairs done LAST week or my paint would never have dried!
So, I'm a hoarder. I have NOT been featured on one of the above mentioned shows (yet). BUT I do know I need to downsize, but I can't throw anything away. I decided to start in with my STACK of chairs.
Here is one I picked out for this project.
YUCK! I removed the seat and primed it. I LoVe, lOvE this spray paint! I can only find it at Menards but it covers beautifully and has a great selection of colors.
Then I went inside to start reupholstering the seat. I took the old seat off and starting pulling off the NASTY vinyl cracked one.
Then put new batting on. I had to purchase new batting as I'd used all my re purposed pieces for other projects. But with 40% off coupon at Hobby Lobby I think I spent $12.00 on a big bag (and did I mention I have a STACK of chairs!)
I stapled the batting on and then set my new seat on the material. (You don't have to staple the batting on separately, I just got a new staple gun and had to play around with it!)
Our JoAnn's Fabrics just opened a new store and clearanced out all their old store inventory. I got all my material 75% off... so a yard of fabric (which could do 2-3 chairs) only cost me $2.25ish...
When reupholstering, start at the center of all sides. As you see in the picture, I started on two sides, then move to the other two sides. After doing the center on all sides, staple close to the end or corner (but not too close because you need to work the fabric at the end of your upholstering job to finish it off) and then meet in the middle from your first staple and the end you just did. Repeat. Dhis on all for sides then do the corners (see below). Make sense?!
Corners can be tricky (especially if you use thicker batting to make a plush seat!). Play with it and try to make it smooth.
Trim off the excess material and reattach to your chair and you're done! Super quick and easy! And look at the transformation...
Ahhh... much better. And for:
Chair: free
Primer: $3.34 (used 1/2 a can)
Paint:$3.34 (used 1 can)
Batting: $12.00 (used 1/8 of it)
Material: $2.25/yd (used 1/4yd))
Can't beat that!
I'm linked here: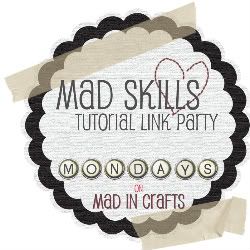 Thanks for stoppin' by,
Kim